We provide providing 24-hour drain cleaning services in
Newport News, VA & surrounding areas.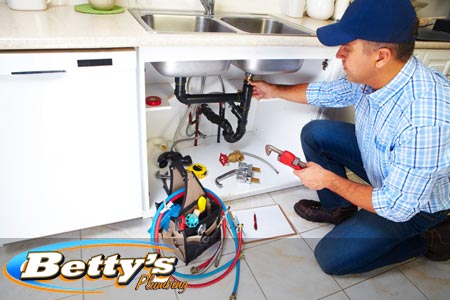 When you have a clogged drain, you should call Betty's Plumbing for drain cleaning in Newport News. We not only remove clogs but also install new drains when necessary. With our drain cleaning services, we can prevent problems recurring in the future.
Frequent Drain Clogs
A qualified plumber is needed to find the source of the problem, and our local Newport News professional plumbers have the experience to know where to look for the drain clog. We can even trace clogged drains all the way to the sewer line, getting the job done quickly.
Clean Drain Cleaning Services
Even though drain cleaning is a dirty job, there's no excuse to leave a mess in your home when performing the service. Our goal is to respect your home. Our plumbers keep the area clean and work quickly to get your water flowing through your drains again. Betty's plumbers provide the best, cleanest service in town!
We use video inspection to check your drain lines to eliminate guesswork. If the clogs aren't responding to chemical drain cleaners, we'll use a drain camera and locate the real source of the problem.
24 Hour Drain Cleaning
Our service trucks come prepared for every scenario. Our technicians bring tools like rooters, hydro-jet cleaning equipment, specialized snaking devices, augers, cutting tools, and more.
You have our assurance that we'll complete the drain cleaning as soon as possible.